Over one billion users are active on Instagram every month. Are you? Let's get more specific. Does your dispensary use social media or plan on using Instagram in your social media strategy? Social media apps like Instagram offer your dispensary a budding opportunity to attract more customers and encourage them to return to your store. All you need is a plan and a basic understanding of Instagram's best practices and you'll be prepared for success.
1. Make your page stand out
Establishing your dispensary's Instagram presence begins with creating your brand page. This page will represent your dispensary on the popular social network, becoming the hub for your followers, the content you share and the interactions you have with customers. Designing your Instagram brand page shouldn't be taken lightly. You may be tempted to follow the footsteps of other dispensary pages—but make sure you take into account certain best practices first. For example, there are right and wrong ways to create a lot of page elements, including your:
• Profile photo: Add your dispensary's logo here. Don't do anything too creative, because this will be the most viewed photo on your account. You want you logo to appear on all comments and engagement you make. This will help build your brand awareness.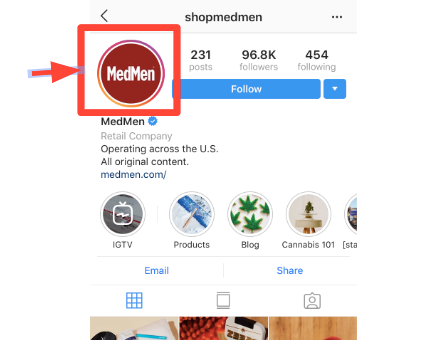 • Account description: Include your dispensary name, location and contact information here. This is your first change to communicate what your dispensary stand for. Make it count. Be sure to include a call-to-action to drive business to your dispensary
• Story highlights: The pinned Instragram stories at the top of your page. Include promos, offers and any timely information here for new users and potential customers.
2. Attract Followers
Seeing that empty page will seem intimidating at first. It's your job to find people who will see and interact with the content you eventually share. Keep in mind that you already have followers in real life. You have customers who know your dispensary. People in the neighborhood pass by your front door every day. Start to build a following by transitioning those people into Instagram followers. To accomplish this, you must combine your online and offline strategies. How exactly do you do that? Here are a few ideas.
• Add the message "Have you followed us on Instagram?" to every product, packaging or receipt.
• Create a custom window cling highlighting your Instagram page.
• Inform customers that they can get a coupon if they follow you on Instagram.
• Feature your instagram handle on the menu cover.
These are great ways to start gaining a following if you don't already have much of a digital presence. If you collect customer emails, you already have an open digital channel. Use email, coupled with a Instagram-specific promotion, to get your page started on the right foot. Most of these tactics involve minimal cost and effort. Now comes the hard part. Create the content you'll share with your new fans.
3. Share High Quality Content
Getting followers is one part of the process. But what about keeping them engaged with what's happening at your dispensary? Sharing on Instagram is an art that only a handful of companies have done successfully. Our biggest piece of advice for dispensary marketing is to get creative and share engaging content that people actually care about. Entertain, educate or offer something to your prospective customers.